Table of contents:
Introduction
Sigsync Office 365 Email Signature video
The Most important takeaways

What can I do with Sigsync?
How does Sigsync work?
Is Sigsync safe to use?
Is it necessary to install Sigsync on your computer?

Pros and Cons
Features of Sigsync Office 365 Email Signatures

General and User interface Aspects
Business and email communication
Email marketing and product promotion

Requirements to use Sigsync Email Signature solution
Simple steps to Set up Sigsync Office 365 email signatures
Sigsync three modes of Signatures
Rule based Office 365 email signature
Free Trial version & Pricing plans
Sigsync vs other Email Signature solutions
Comparison study: Other parameters
Ease of Use with Sigsync
Security and Privacy
Free Technical Support 24×7
Get your signature designed for free
Final Thoughts

Introduction
You may have heard of Sigsync if you're looking for an Office 365 email signature solution. It offers a brand, feature-rich, cost effective email signature for Office 365 and Exchange users. Furthermore, it is a secure, Microsoft approved service that allows you to add email signatures for your whole organization from a single central location. It has grown in popularity and is now used in over 150 countries, providing you with complete peace of mind when it comes to controlling and adding email signatures and disclaimers. Continue reading for an in-depth guide on how Sigsync email signatures work.
You don't need to install anything at all in your environment because Sigsync is a cloud-based signature solution. It works on all devices, is supported by all email clients and it is portable and accessible from any location. Sigsync is GDPR and HIPAA compliant, as well as a highly secure service that meets ISO 27001:2013 specifications. It is a comprehensive signature solution for your requirements and your Office 365 credentials or emails are never read or retained.
https://www.youtube.com/watch?v=38DJW2KuVcg
The Most important takeaways
Sigsync is a feature-rich, cloud-based, and centralized Office 365 email signature solution that offers a wide range of options.
Data security and privacy are of the utmost importance.
Sigsync is a very affordable solution considering the wide range of features that it offers.
What can I do with Sigsync?
You can use Sigsync to:
Design consistent email signatures for your entire organization with in a few simple clicks,
Automatically retrieve Active directory details and add in the signature.
Create your signature with the help of Sigsync's user-friendly signature generator.
While composing an email, you can preview the signature.
Choose your email signature template from a collection of more than 150 professional templates that are built-in.
Signatures and disclaimers for Sent items can be enabled for legal compliances.
Email signatures can be scheduled for a variety of purposes and occasions.
Incorporate social media buttons, website links, QR codes, analytics, and one-click surveys into your email signatures, among other things, to increase your social and marketing outreach.
How does Sigsync work?
Based on the rules you establish for each signature template, Sigsync adds email signatures and disclaimers automatically. It uses three different methods to add signatures to emails. Depending on the option you select during configuration, your email signatures are inserted either on the server side using connectors or on the client side using the Sigsync Signatures Outlook Add-in. A mixed mode ensures that each of the above two methods discussed above can be used to add signatures.
Is Sigsync safe  to use?
Sigsync is a completely secure email signature service. It is Microsoft-approved that makes use of secure cloud services for email signatures and disclaimers in accordance with Microsoft's recommended workflow. Nobody has access to or can read your emails because they are not stored anywhere. This application authenticates users using Microsoft OAuth 2.0 and TLS encryption.
You will never be asked for your credentials; instead, you will be redirected to the official Microsoft Sign in page for authentication. No information about your Office 365 credentials is stored on Sigsync's servers or on any other third-party servers.
Is it necessary to install Sigsync on your computer?
Sigsync is a web-based service that does not require any  app to be installed in order to use it. It is device independent and is compatible with all email clients and operating systems, including Mac and Windows and all smartphones. All you need is a browser that is compatible with the service in order to use it.
Pros and Cons
Pros:
Numerous cutting-edge features.
Setting it up is a breeze, and using it is equally so.
Three modes of signatures : Server side, Client side, Mixed mode.
A cost-effective email signatures solution
Secure, cloud based service supporting all devices and email clients
Free trial for 14 days as well as a free live personalized demo
Free email signature design facility available.
Excellent and Expert 24×7 customer service for assistance and resolve all your queries.
Cons:
Allows you to copy the HTML signature template within and outside the Tenant but you cannot save it on your local computer.
Existing HTML signature template code import is allowed. However, you cannot directly export HTML code.
Features of Sigsync Office 365 Email Signatures
 The fact that Sigsync has all of the characteristics that a perfect email signature system should have is astounding. It includes a flexible and user-friendly signature generator or editor that lets you easily create email signatures and roll out signature updates throughout your whole organization. Let's look at the features in more detail.
a.      User interface and General features
Sigsync features a simple interface and a centralized dashboard where you can manage all of your Office 365 tenants' email signatures and disclaimers. You can designate one of the users as a Tenant specific admin or add a Global admin to control email signatures for certain Office 365 tenants. One of the best things about Sigsync is that it comes with more than 150 professionally designed free email signature templates that you can customize right away.
You can use a variety of drag and drop signature components to create your own template. Customers can be invited and added by resellers. Sigsync is an email signature service with rules that allow you to set mail flow conditions based on Senders, Receivers, and Keywords. You can utilize Sigsync's three signature modes to add signatures for any event by combining these requirements.
Sigsync User Interface and General features
Centralized Signature management
●
Secure & cloud based email signature
●
Company-wide Office 365 email signature
●
Easy configuration
●
No need of any installations
●
Support for  all devices and email clients
●
No demand of tech skills to use the service
●
Online WYSIWYG Signature Generator
●
150+ Predefined professionally designed signature templates
●
Dark mode signature templates
●
Animated GIF signature templates
●
Import and modify your HTML signatures
●
Preview of signatures in the Signature Generator
●
Various signature components for  signature creation
●
3 modes of signatures (Server, Client and Mixed mode)
●
Assign Global or Tenant specific admin role
●
Facility to add multiple tenants
●
Signature Rules to add different signatures
●
Insert Embed or Hosted images in signatures
●
Remove default mobile signatures
●
Email signature to encrypted emails
●
Automatically retrieve Active Directory (AD)details
●
Support for Active Directory placeholders
●
Signup as reseller and  manage customers signature
●
Free Product live demo and 14 days trial
●
b.     Features linked to business and email communication
Sigsync keeps you handled even for corporate communications. You can use multiple email signature templates for reply and forward emails to your external clients, or you can include or exclude email signatures for internal communication within the company. Sigsync dynamically fetches Active Directory (AD) attributes and updates them in your email signatures.
You can add email signatures on the fly while creating an email or preview it from the signature pane with the Sigsync Signature Outlook Add-in. You can either force text emails to be converted to HTML or import your own HTML signature code and customize it straight away from the editor.
Sigsync also allows you to substitute the default signatures added by mobile devices, such as Sent from Android and Sent from iPhone, with custom signatures you design. In addition, you can use Sigsync email signatures to promote or launch your company's product, highlight or invite people to events and webinars, display beautiful banners for discount offers, and generate leads in your business. To discover more about these features, keep reading.
Sigsync features related to business and email communication
Insert Signatures and disclaimers based on Senders, Recipients and Keywords
●
Update Signatures to internal and external emails
●
Sigsync Signatures Outlook Add-in for adding on-the-fly signatures
●
Preview Signature using Sigsync Outlook Add-in
●
Enable signatures and disclaimers in the sent items folder
●
Update different signatures under reply and forward emails
●
Signature directly under a reply or forward email
●
Various signature occurrences in email conversations
●
Force convert text email to HTML
●
Remove empty AD fields in signatures
●
Update email signatures to aliases and shared mailbox address
●
Add photos to Office 365 user email signatures
●
Multiple geolocation servers
●
Update signature for Out-of-Office replies
●
Add multiple signature rules and prioritize the execution of rules
●
Include/Exclude signatures to specific AD groups
●
Support for custom AD field
●
Include Microsoft Team link in email signature to schedule meetings
●
Insert signature to Calendar messages
●
c.      Features for email marketing and product promotion
Email signatures can aid in the accomplishment of your email marketing goals, the creation of campaigns, the promotion of your brand and product, and the generation of leads. Sigsync brings together a variety of email marketing solutions in one place. QR codes, email signature statistics, one-click customer surveys, social media icons in your signature, interactive and eye-catching banner visuals, and more features are all possible with it. You can create time-based marketing strategies with Sigsync's scheduling feature. During the holidays, Black Friday, Cyber Monday, and other important seasons and anniversaries, you can utilize an email signature to promote special offers.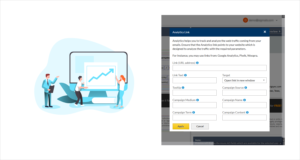 Sigsync features related to email marketing
Social media integration
●
Analytics and One-click survey
●
QR codes and website links
●
Scheduler Email signature
●
Add company logos and product images
●
Multiple marketing banners in email signatures
●
System Requirements
Sigsync Web interface
Any latest and web compatible browser
Chrome, Firefox, Opera, Microsoft Edge, Safari
Microsoft 365(Office 365)        global admin  account
Licensed or Trial version with Exchange online included
Operating System

Supports all devices including Mac, Linux, Smartphones, Windows PC

Sigsync Signatures Outlook Add-in
Any latest and web compatible browser for Outlook on the Web (OWA)

Chrome, Firefox, Opera, Microsoft Edge, Safari
Microsoft Outlook connected to Office 365 subscription
Outlook 2019, 2016
Microsoft Outlook required?
Yes if you would like to access the Add-in on Outlook desktop client
 Simple steps to configure Sigsync Office 365 email signatures
Registering Sigsync service is simple and straightforward process . Go to the Sigsync homepage and create an account. To access the Sigsync dashboard, you can use either an Office 365 account or a Sigsync login.
After logging into Sigsync, you will be presented with a well-designed Dashboard, from which you can add your Office 365 tenant and begin managing signatures for all of your tenants in one place.
After you've added a tenant, you can add signatures using one of Sigsync's three signature modes. Each of the three modes is instructed step-by-step to make it simple to set up your signatures. Sigsync connectors must be configured on the server side and in mixed mode. Client-side signatures, on the other hand, can be added to emails directly in Outlook without the need for connector configuration.
Sigsync Signature Generator offers a gallery of 150+ free signature templates (including dark mode designs) that you can instantly personalize and use in your emails. It's a useful feature for individuals who don't have much experience designing signatures.
You can also use the signature generator to create your own personalized signature that is tailored to your specifications. A large number of components and buttons including tables, image fields, personal fields, address fields, social media Icons, analytics, one click surveys, QR codes etc can be included in your signature. Each component can be edited by dragging and dropping it onto the signature template and making the necessary changes. Additionally, it is possible to include banner elements, contact information, custom attributes, website and meeting links, among other things. You can import the signature template from the HTML code if you are looking for a way to import your signature.
In addition to the standard signature components, you can customize individual signature components to the center, left, right, or bottom. It is possible to add padding, adjust the height and width of images, add a background or border radius to images, change the font and alignment, among other things. When using Sigsync, it is possible to remove empty Active Directory fields from the signature template, such as faxNumber and mobileNumber, so that the blank entries are not displayed in the signature automatically.
You must assign the signature template to the Signature Rule after you have finished designing it in order to customize the sending of signatures based on the Senders, Recipients, and keywords. In addition, you can specify the rule priority and the rule execution flow based on the order in which the rules must be processed.
When it comes to scheduling email signatures, Sigsync has a well-designed Scheduler that can be used for a variety of occasions and events. You can, for example, time-theme your email signatures to correspond to specific holidays, seasons, product launches, or celebrations, and then send them out at the appropriate time. Consider including an appropriate banner in your email signature as well as a scheduler that displays this promotional event every time you send an email when you are planning a product launch. Schedulers are used to operate between specific time periods, and they are turned off automatically when the time period is over.
You can add signatures to emails while they are being composed using the Sigsync Signature Outlook Add-in, which is available for both Windows and Mac OS .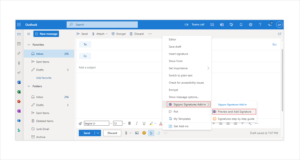 The signatures can also be previewed using the preview panel on the right, and you can then add the necessary signatures directly from the preview panel.
Sigsync three modes of Signatures
When configuring and adding signatures, Sigsync offers three different options. Sigsync connectors must be configured both on the Server side and in Mixed mode for this to work. Sigsync Outlook Add-in must be installed in order to use the client side signature mode. There is no need to configure the connectors while using this mode. With the mixed mode, you have the option of adding signatures on both the server and the client side. The mixed mode is an excellent solution for centralized signature management because it addresses all of the requirements.
| | | | |
| --- | --- | --- | --- |
| Feature | Server side mode | Client Side mode | Mixed mode |
| Connector configuration required | Yes | No | Yes |
| When does the signature gets updated | Once you send an email. | While composing an email | You can use the Add-in to add signatures while composing an email or prefer to insert signatures once you send an email |
| Install Sigsync Signature Outlook Add-in | Only to Preview the signature | Yes | Yes |
| Works on all email clients | Yes | Microsoft Outlook | Yes |
| Can be used on desktop | Yes | Microsoft Outlook and Sigsync Add-in must be installed | Yes |
Rule-based Office 365 email signature
In terms of functionality, Sigsync allows you to add signatures based on rules that you define which is extremely impressive. In the case of signature rules, you can set distinct signature templates for different users or even different groups of users by configuring the signature rules. Depending on the keyword phrases, you can include or exclude signatures, or you can exclude signatures for specific recipients.
It is possible to assign a different rule to each of the subsequent signature templates for a reply or forward mail by configuring the rules in advance. The rules can also be prioritized in order of importance according to the requirements. This is particularly useful when the signature must first be assigned to a specific team before being included to the rest of the team.
With the rule-based signature, you can also create signatures that are based on specific groups of people. Select the required group, and then add a custom banner and signature to that group to make it stand out. Individual teams can be assigned signatures that are specifically designated for them in this manner.
Sigsync: Free Trial version & Pricing plans
Sigsync offers a 14-day free trial with 1000 user licenses that allows you to test the product. All of Sigsync's features are available to you during this time, and you are not required to provide any credit card or payment information during the trial.
Comparing Sigsync's pricing to that of any other competitor on the market, it is one of the most cost-effective and flexible email signature services.
It enables you to purchase subscriptions on a monthly or annual basis. As a bonus, an additional month of free subscription is included when you purchase the annual subscription plan. In addition, you have the option to change your subscription from monthly to yearly or vice versa at any time. Nonprofit and government organizations can take advantage of additional discounts from Sigsync.
For 100 users (on a monthly basis), it costs $90, and licenses are based on the number of users (email addresses that send emails) who use the Sigsync service. Since there are no restrictions on the number of emails that can be sent from a particular email address, it is a very affordable email signature service. Both the free and licensed versions come with free customer support available 24 hours a day, seven days a week and free updates.
| | | |
| --- | --- | --- |
| Sigsync features | Trial Version | Licensed version |
| All features | ● | ● |
| Duration | 14 days | Monthly or Yearly |
| Cost | Free | 90$ for 100 mailboxes (monthly) |
| Free 24/7 tech support | ● | ● |
| Free signature designing service | ● | ● |
Sigsync vs other Email Signature solutions
1.     The amount of time it takes to set up the signature service
Sigsync email signature  is  simple to set up and configure. You need only a couple of minutes In order to create an account and add a tenant. After you have finished adding the tenant, you can begin designing and adding signatures. Sigsync is the best option for those who want to get a signature quickly and without having to spend a lot of time. Additionally, it provides you with a gallery of free customized pre-designed signature templates from which you can select and begin using them right away.
2.     The service's accuracy and overall performance
We tested Sigsync with 100 different groups, each with a different number of members, to see how well it performed overall. Loading all of the members went smoothly, and we were free to choose as many as we wanted for the purpose of adding email signatures based on specific senders or recipients. As a result, when it comes to retrieving AD values from the user's directory, it is a relatively quick service.
3.     User-Friendliness
In Sigsync, we were particularly impressed by the integrated Signature editor. A comprehensive interface that includes all of the signature elements required to create your own email signature is provided. In addition, you can import your own HTML signature code, which makes it even more user-friendly. Comparing Sigsync to other signature editors such as Outlook or Gmail, Sigsync provides an extensive range of features and components in a single convenient location. This makes it very simple to create professional HTML signatures on your own, even if you don't have any technical expertise. We got in touch with Sigsync support in order to get our own signature design. Their professional team provided assistance and created a free email signature for me.
Comparison study: Other parameters
| | | |
| --- | --- | --- |
| Parameter | Sigsync Office 365 email signature | Other Email signature solutions |
| Free email signature designing | Yes | No |
| No technical skills required | Yes | No |
| Pricing plans | Very affordable with exclusive offers | Expensive |
| 24/7 Free customer support | Yes | No |
| Free trial option | 14 days | No |
| Free trial can be extended | On request by contacting customer support | No such facility |
| Cost-effective for the same features as other tools (Cost vs features offered) | Yes | No |
Ease of use with Sigsync
In addition to being simple to use, Sigsync does not require any installation on your computer or device, making it extremely portable. It takes only a few minutes to get started and begin adding signatures to your emails. It has a user-friendly, well-designed dashboard that allows you to add and manage tenants and administrators in your account. Accessing your Sigsync account is as simple as entering your username and password; no other configuration or setup is required on your end.
Security and Privacy
It is an extremely secure Microsoft-approved service that places a high value on the privacy and security of its users' data. As previously stated, it is an ISO 27001:2013 certified service that adheres to Microsoft's standard operating procedure. Sigsync servers are GDPR compliant, and they also comply with HIPAA regulations. Nobody has access to or can read any of your information.
Only an administrator has access to your account, and all of your settings are protected by encryption. It authenticates users using Microsoft OAuth 2.0 and TLS encryption, and all of its websites are secured with SSL. The Sigsync application will never ask you for your credentials; instead, you will be redirected to the Microsoft login pages to complete the authentication process. It even gives you the option of using Multifactor Authentication as an additional layer of security as well (MFA).
Sigsync Security and Privacy
ISO 27001:2013 certified
●
Microsoft's flow to add signature
●
HIPAA compliant
●
GDPR compliant
●
OAuth Authentication and TLS encryption
●
Support for Multi Factor (MFA) authentication
●
Centralized management
●
Load balancing and uptime
●
Users data is secure
●
Free Technical Support 24×7
Sigsync offers excellent customer service round the clock. You can communicate with Sigsync representatives through the live chat, and they will be happy to assist you. It is also possible to request a free personalized demo at your convenience if you wish to learn more about the features in greater detail. Furthermore, at no additional charge, Sigsync's expert design team can create signatures for your team. If you still can't find what you're looking for, you can refer to the extensive user manual guides, knowledge base, FAQ pages, or video tutorials that cover almost everything on the website. If you prefer, you can also contact customer service via email by mentioning your requirements in detail. You can contact customer service at any time if you have any comments or questions about the service, or if you want to learn more about it even during the trial period.
Sigsync support options to create your email signature
Free 24/7 tech support
●
Live chat and Email support
●
Phone support
●
User manual
●
Knowledge base & FAQ
●
Video Tutorials
●
Feedback form
●
Free Personalized demo
●
Free Signature Design
●
Sigsync blog and Facebook posts
●
Get your signature designed for free
One of the standout features we couldn't discover in any other signature solution was Sigsync's free email signature creation service. To get a free customized signature design from Sigsync's expert signature designing team, simply send an email to customer support with your requirements and they will design a tailor-made signature for you at no additional cost.
Final Thoughts
Sigsync which we reviewed in this article, is the most effective and flexible solution for centrally managing Office 365 email signatures company wide. The ease-of-use, plethora of features at an incredibly low price, a neatly designed centralized dashboard, and a full-featured email signature editor with over 150 breathtaking email signature templates are just a few of Sigsync's notable features.
We tried out the signature solution and found it to be a generally positive experience overall. With the signature generator, it is extremely simple to create a signature, and we completed our task in no time. Another thing to highlight is the signature design service offered by Sigsync for your team. Sigsync's experts can create visually appealing email signatures for you at free of cost. It is unquestionably deserving of five stars because it provides so many features at such a reasonable price.
If you are looking to migrate all your Office 365 mailboxes to Exchange or vice-versa, then EdbMails is the best Office 365 migration tool that can transfer everything without downtime. It perfectly maintains the source and destination items hierarchy and using it is a breeze. With its easy-to-use interface, anyone can use it without technical knowledge. Visit EdbMails from the link above to know more.
More Read On: Spero Magazine